Transportation for the backpacking shuttle ends October 16th, 2021!
BACKCOUNTRY CAMPING PERMIT REQUIRED
PLEASE GO TO: To access PRNLS reservation site for backcountry camping permits and build itinerary PRIOR TO BOOKING YOUR TRANSPORTATION……NOTE: WE DO NOT TRANSPORT TO/FROM CHAPEL OR LITTLE BEAVER LOCATIONS.
https://www.recreation.gov/camping/campgrounds/256367
This is not an automated reservation system. Reservations are booked and confirmed during normal business hours Monday thru Friday until 5:00pm. If you are reserving your spot after 5:00pm on Friday for the Saturday or Sunday following, your reservation will not be booked or confirmed. If you do not receive a reservation confirmation….your reservation has not been booked!!! You may attempt to flag down a driver for a ride, it is their discretion if they they have available room to pick you up. You must also at that time have cash to pay the driver for each passenger boarding. THEY DON'T HAVE THE ABILITY TO TAKE DEBIT/CREDIT CARDS.
COVID-19 ALERT! A mask or other type of face covering is required to board the shuttle. Read more
NATIONAL PARK SYSTEMS -FEDERAL MANDATE: Face masks are now required in all NPS buildings and facilities. Masks are also required on NPS-managed lands when physical distancing cannot be maintained, including narrow or busy trails, overlooks and historic homes. Additional public health measures are in place across the service, from capacity limits to one-way trails, or even temporary closures in response to local conditions.
Alger Transit Authority (ALTRAN) provides a Shuttle Service for backpacking and hiking within the Pictured Rocks National Park along the Lakeshore Trail. The 42.4-mile trail, part of the North Country National Scenic Trail, is located between Grand Marais and Munising.
---
Before You Arrive…
All transportation service listed requires advance pre-paid reservations.
If we do not have reservations, we do not make the run or schedule a driver.
Reservations should be made at least one week in advance and are first come first ; seating is limited due to COVID19.
Pick-up/Drop-off locations and times listed on the reservations page are the only locations and times available.
Cost: $35.00 per person
We always suggest you hike back to your vehicle from your drop-off location so that you do not have to worry about getting off trail to catch the bus/van or miss your ride should you arrive late, as we cannot wait. We may have other hikers to pick-up/drop-off along the way and have to maintain a schedule.
If the link to the right does not answer your questions further, please email altranmc@jamadots.com.
---
Backpacker Shuttle Route Map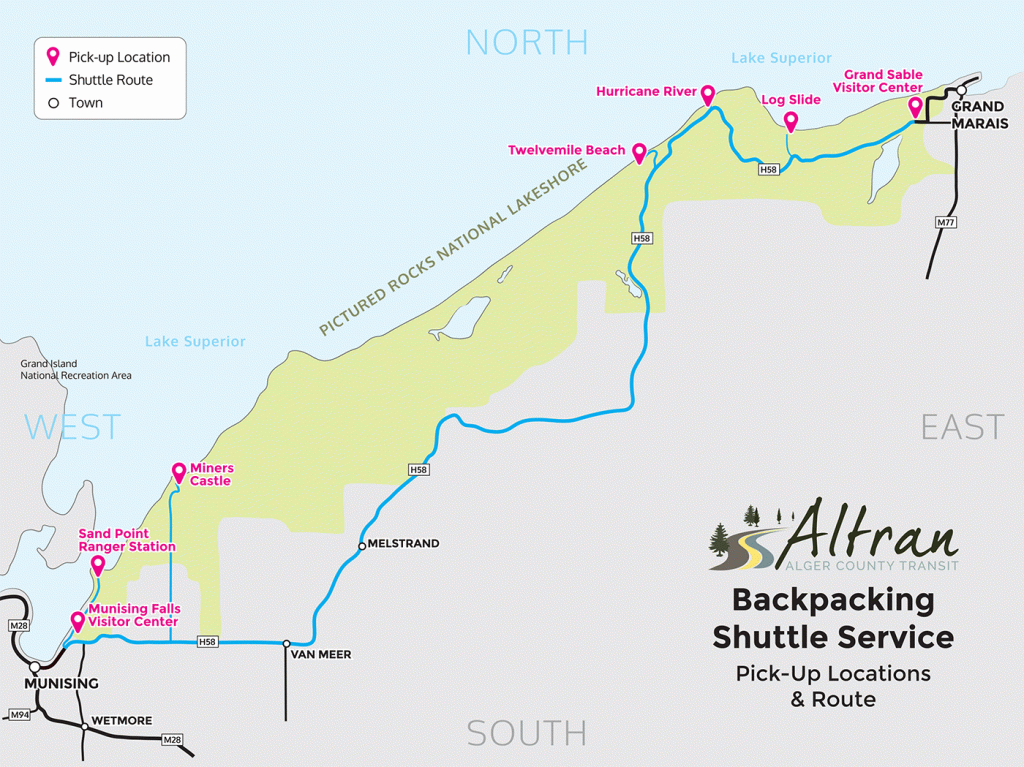 See schedule below for various pick-up location times.
---
Backpacker Transportation Schedule
Printer-friendly schedule (pdf)
Pick-up Location: WEST END
7 days a week
Pick-Up Location: EAST END
7 days week
ROUTE 1
7:45a.m. – Sand Point Ranger Station (gravel parking lot)
10:00a.m. – Grand Sable Visitors Center
8:00a.m. – Munising Falls Visitor Center
10:10a.m. – Log Slide
8:20a.m. – Miners Castle
10:20a.m. – Hurricane
9:25a.m. – Twelve Mile
10:30a.m. – Twelve Mile
9:35a.m. – Hurricane
11:30a.m. – Miners Castle
9:45a.m. – Log Slide
11:45a.m. – Sand Point Ranger Station (gravel parking lot)
9:55a.m. – Grand Sable Visitors Center
11:55a.m. – Munising Falls Visitor Center
ROUTE 2
11:45a.m. – Sand Point – Ranger Station (gravel parking lot)
2:00p.m. – Grand Sable Visitors Center
12:00p.m. – Munising Falls Visitor Center
2:10p.m. – Log Slide
12:20p.m. – Miners Castle
2:20p.m. – Hurricane River
1:25p.m. – Twelve Mile
2:30p.m. – Twelve Mile
1:35p.m. – Hurricane
3:30p.m. – Miners Castle
1:45p.m. – Log Slide
3:45p.m. – Sand Point Ranger Station (gravel parking lot)
1:55p.m. – Grand Sable Visitor Center
3:55p.m. – Munising Falls Visitor Center
Pick-up times from the West end start at Munising Falls and times from the East end start at Grand Sable Visitors Center. If you are at a pick-up time other than Munising Falls or Grand Sable, the time will be later. Times are estimated by the number of stops along the way. Once your reservation is submitted, your confirmation notice will have your estimated pick-up time. Please arrive 15 minutes before your scheduled pick-up time.
REFUND POLICY: Full refund if cancellation is made at least 72 hours before service date. Refunds will not be made if you miss your pick-up time, weather or illness/injury during your hike.
NO EXCEPTIONS!!!!
---
Backcountry Camping and Hiking Tips/Information
We always suggest you hike to your vehicle so that you do not have to worry about getting off trail to catch the bus/van or miss your ride should you arrive late (as we cannot wait). We may have other hikers to pick-up/drop-off along the way and have to maintain a schedule.
Hiking and backpacking have potential hazards involving risk of injury or death, and each person participating in these activities needs to understand the risks involved, obtain the necessary training, and take the needed precautions.
BE SAFE! BE PREPARED! No matter what length, any hike is more fun if you are properly prepared.
If you plan to be out an extended time, let someone know where you are going and expected time of return.
Have a map (consider taking a picture of a map posted at some trailheads), compass, or GPS, and know how to use them.
Emergency cash/money
Flashlight or head lamp
Sun protection: sunglasses, sun-protective clothes and sunscreen
First aid: including foot care and insect repellent
Knife: plus a gear repair kit – axes & hatchets are not allowed in the National Park
Few 100′ of para cord
Garbage bag – cover pack/backpack for the night (not allowed to put them in bear boxes)
Zip lock Bags
Fire: matches, lighter, tinder (must stay in communal fire rings found at most sites, but not all)
Extra food: beyond the minimum expectation
Extra water: beyond the minimum expectation, potable water available at a few locations except between 12 Mile Beach & Miner's Castle, which amount to 23.9 miles
Proper footwear & clothing: don't forget the rain gear
Be careful on the cliffs and stay back from edges. Watch for loose soil, tripping hazards and undercut rock. Many areas are composed of soft rock and are undercut.
Lake Superior affects the local weather– be prepared for fast changes, including cool conditions and rain.
Insects such as black flies, mosquitoes, and biting stable flies may be a nuisance between late May and September. Stable flies can be relentless and aggressive along the shore on hot, humid summer days with a south wind. Insect repellent does NOT work on them and they can make your hike a misery. They target hiker legs and ankles, so put some long pants and thick socks in your daypack in case you need them. Don't forget – cut pieces of Downy dryer sheets, 100% Deet, bug spray, etc.
Bicycles are not permitted on any trails.
Drones are not permitted anywhere in the park.
Backcountry permits are required only if you plan to camp overnight in the backcountry.
Practice Leave No Trace.
Please use toilets where provided. Otherwise, bury waste 6-8 inches deep and cover with soil.
Bring a bag and carry out your trash – including all food items like orange peels and sunflower seeds.
Wear bright colors when hiking in hunting season.
For your safety: https://www.nps.gov/piro/planyourvisit/safety.htm
If you or your group decides they want/need a ride from Altran without making a reservation prior it will be $35.00/person cash (drivers cannot accept credit/debit cards) on the spot. No exceptions!!!!
If you encounter trouble due to sickness/injury during your hike that you cannot complete your trek that does not require emergency management services you can contact Altran for a return ride to your vehicle for an additional $35.00 fee. You will be instructed to hike to the nearest road or trailhead for pick-up. (**Note: Altran does not utilize Chapel Road, due to road conditions and tourism congestion). If you require emergency management services, please text or call 911. ****NOTE****Cellular service is not available in all areas of the park.
Altran or its employees are not search and rescue and assumes no liability with regards to any damage, personal injuries, or death as a result of the use of any information, maps, routes, advice, or gear discussed on this website. All outdoor activities are carried out at your own risk.
As a reader, you recognize this, assume all risks of property damage, personal injury, and death, and agree to hold Altran, and its employees harmless from any liability as a result of your use of the information provided in these pages.
This website accepts payment, or a promise of future compensation prior to, or in exchange for shuttle services. All original content on this site reflects the opinions, beliefs, or experiences of the writers of this website. The writers of this website are not experts in the topic of backpacking or hiking but are instead just normal consumers with an enthusiastic interest in this subject. The content here should not be taken as expert advice. For additional information or questions, please first email altranmc@jamadots.com if you don't get a response within the timeframe needed please call 906-387-4845, ext. 1.